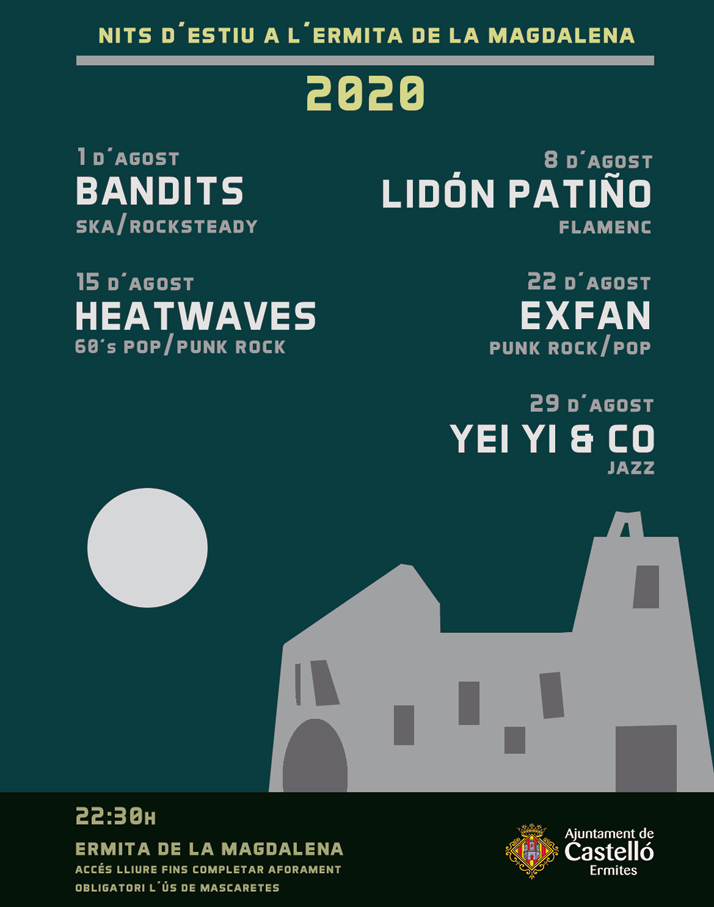 The Castelló City Council, through the Regidoria d'Ermites and the Patronat Municipal de Festes, has organized the Nits d'estiu a l'ermita de la Magdalena cycle, a series of performances that will bring the music of different artists from the province to the hermitage of Castelló. They will start on Saturday, August 1 at 10:30 p.m. and will run every Saturday of the month at the same time, with shows scheduled for the 8th, 15th, 22nd and 29th.
"The cycle of concerts in La Magdalena joins this summer's program to offer a leisure alternative in a unique setting. Once again, music will arrive at the hermitage, but this time, given the current context, we appeal to responsibility of the attending public, so that they comply with the sanitary measures and can enjoy with the maximum guarantees of this proposal", explained the councilor of Ermites and Festes, Pilar Escuder.
Thus, given the current health situation and the health protection measures in force, the use of a mask will be compulsory for those attending the concerts, whose admission will be free until full capacity is reached. The public will have assigned seats and must witness the musical performances with a mask in order to preserve both their health and that of the invited artists.
Under a proposal of marked local character, the start of Nits d'estiu a l'ermita de la Magdalena will take place on August 1 by Bandits, a band that combines ska and rocksteady and that will resonate the Jamaican sound in the Castelló night. On August 8, flamenco will arrive from bailaora Lidón Patiño, who will fill with passion the idyllic setting of the Magdalena hermitage in a quartet-like format. Heatwaves will be the group in charge of accommodating the music of the sixties on August 15, while Exfan will perform on August 22 through their alternative sound thanks to the duo composed by Pat Escoin and Tommy Ramos. The concert cycle will end with the performance of Yei Yi & Co, the group led by Jesús Gallardo that will bring the emotion of jazz closer to Castelló.